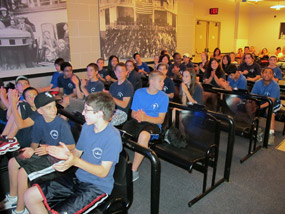 Students in grades 4-8 learn about immigration at Ellis Island during its peak years (1892-1924) during this 90-minute program. A ranger explains the process of immigrating through Ellis Island while taking students through the Main Building. Afterward, students participate in an interactive question and answer game, which not only tests what they have learned, but also presents the information in another format, reinforcing the education experience.
This free program is offered weekdays during the school year and requires the completion of pre-visit activities before the on-site visit. This program is limited to 48 students.
Once your reservation is confirmed through , please download the new Teacher's Guide for students in or to help prepare your students for the program. Or download the classic version: . Please give us feedback about the Teacher's Guide you used!
Additional are also available to help prepare for your visit.