Self-Guided
A self-guided visit to Ellis Island is a great way for students to explore the museum and even walk in the footsteps of immigrants. To get the most out of your visit, explore the following:
Self-Guided Museum Exploration
While at the Park
Great ideas for what to see and do at Ellis Island based on how much time you have.
NPS Photo
Self-Guided Activities
Designed especially for students visiting the museum, these self-guided activities encourage students to explore the historic building, learn from primary sources in the museum exhibits, and better understand immigration a century ago. Students can complete these activities working individually, in pairs, or in small groups.
Fourth Grade through Seventh Grade (4-7)
"Immigrant Eyes" Students engage in an interactive self-guided tour that replicates some of the immigrant experiences at Ellis Island through emotional connections.
Eighth Grade through Twelfth Grade (8-12)
"Being Processed" Students use the information in an immigrant file (download below) to experience Ellis Island as an immigrant being processed through Ellis Island.

Immigrant File: Abraham Cohen
Immigrant File: Rosaria Esposito
Did You Know?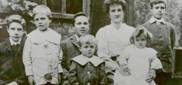 Most Americans remember Bob Hope for his work in the entertainment business as a comedian, actor, dancer and singer, as well as his work with the American troops abroad. Few people know that Bob Hope was an immigrant from England who came here with his family and passed inspection at Ellis Island on March 30, 1908, at the age of 5. (center of photo) More...