Ellis Island is open on a limited basis while repairs continue.

Ellis Island has reopened on a limited basis. Due to the nature of the destruction caused by Hurricane Sandy parts of the historic Main Building and museum, including most of the exhibits, remain closed at this time. More »
Ellis Island 101
Visiting Ellis Island
Update as of March 20, 2013: Due to extensive damage sustained during Hurricane Sandy, Ellis Island is closed indefinitely. Statue of Liberty will re-open on July 4, 2013.
Students in large groups learn about Ellis Island as an immigration station a hundred years ago and as a museum today in this 40 minute program.
More than 12 million immigrants were processed through Ellis Island a century ago. Students will learn about what those immigrants experienced here and will also be introduced to Ellis Island as an Immigration Museum with three floors of exhibits. Museum "must see" highlights and recommendations will help students successfully explore the museum with their chaperones. The park ranger will conclude the program with a short question and answer session.
While there are no pre-visit or post-visit activities for this program, you can view and print activities and other information on our Curriculum Materials page.
Note that this program is offered Tuesdays and Wednesdays at 12:00 noon and is intended for groups of students numbering between 48 and 127 along with at least one (1) chaperone per every ten students (the maximum capacity for the program is 140 people).
Did You Know?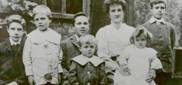 Most Americans remember Bob Hope for his work in the entertainment business as a comedian, actor, dancer and singer, as well as his work with the American troops abroad. Few people know that Bob Hope was an immigrant from England who came here with his family and passed inspection at Ellis Island on March 30, 1908, at the age of 5. (center of photo) More...