Ellis Island is open on a limited basis while repairs continue.

Ellis Island has reopened on a limited basis. Due to the nature of the destruction caused by Hurricane Sandy parts of the historic Main Building and museum, including most of the exhibits, remain closed at this time. More »
Guest Speakers
NPS Photo/Kevin Daley
Rangers from the Statue of Liberty and the Ellis Island Immigration Museum love visiting students and schools in the local commuting area. Ranger in Your Classroom programs consist of three different curriculum-based options designed for students in grades 3, 4, and 5.



Other Guest Speaker Options
Rangers are occasionally available for other events, such as career days. Please e-mail us to inquire about availability.
Did You Know?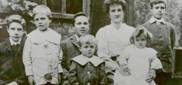 Most Americans remember Bob Hope for his work in the entertainment business as a comedian, actor, dancer and singer, as well as his work with the American troops abroad. Few people know that Bob Hope was an immigrant from England who came here with his family and passed inspection at Ellis Island on March 30, 1908, at the age of 5. (center of photo) More...