Elevator Notice

Elevator maintenance will occur on October 22 and 23, 2014. As a result, there will be NO elevator service on Ellis Island.
Bibliography
Some recommended books:
Ellis Island:
American Passage by Vincent J. Cannato
Ellis Island (True Books: American History) by Elaine Landau
I Was Dreaming to Come to America: Memories from the Ellis Island Oral History Project by Veronica Lawlor
Arriving at Ellis Island (Landmark Events in American History) by Dale Anderson
Ellis Island (We the People: Modern America Series) by Lucia Raatma
Ellis Island (Cornerstones of Freedom: Third Series) by Melissa McDaniel
Statue of Liberty:
Enlightening the World: The Creation of the Statue of Liberty by Yasmin Sabina Khan
Statue of Liberty (True Books: American History) by Elaine Landau
Did You Know?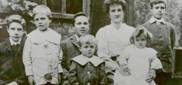 Most Americans remember Bob Hope for his work in the entertainment business as a comedian, actor, dancer and singer, as well as his work with the American troops abroad. Few people know that Bob Hope was an immigrant from England who came here with his family and passed inspection at Ellis Island on March 30, 1908, at the age of 5. (center of photo) More...