Mississippi River Parkway Commission
How to Find Us
The Monument is located in northeast Iowa, along the "Great River Road". It is along HWY 76, 4 miles north of Marquette and McGregor and 22 miles east of Waukon.
Driving is your best bet; there may be limited taxi / shuttle service from hotels located in Prairie du Chien, Wisconsin (located directly across the Mississippi River from the Monument).
Public transportation to the Monument is not available.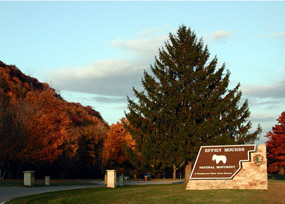 NPS Photo
When traveling along very narrow, winding, hilly and rural roadways in the bluff lands along the Mississippi, it is easy for the scenery to take your eyes away from the road....
The Monument is located about 60 miles south of I-90 as it crosses the Mississippi River near La Crosse, WI. In LaCrescent, MN take Hwy 26 to Lansing Iowa,from Lansing follow X52 to the junction of Hwy 76 and turn south 3 miles to the entrance of Effigy Mounds National Monument.

It is also 130 miles north of I-80 from Davenport, IA. Follow Hwy 62 north to Dubuque and there take Hwy 52 north until you reach Hwy 18 go left to Marquette and follow Hwy 76 north 3 mile to the entrance.

NPS Photo
The Great River Road in Iowa:
A National Scenic Byway is a route which incorporates a variety of highway routes & numbers as it winds along the Mississippi River south from Minnesota, and north from Missouri. See our local approach directions, study your map and look for Great River Road Signs. * Traveling from the north, many folks will drive from La Crosse, WI along highway 35 on the Wisconsin side of the Mississippi River to Prairie du Chien.We are just across the river following U.S. Highway 18 to Marquette, Iowa.