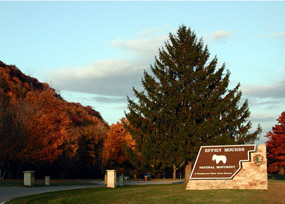 NPS Photo
When traveling along very narrow, winding, hilly and rural roadways in the bluff lands along the Mississippi, it is easy for the scenery to take your eyes away from the road....
The Monument is located about 60 miles south of I-90 as it crosses the Mississippi River near La Crosse, WI. In LaCrescent, MN take Hwy 26 to Lansing Iowa,from Lansing follow X52 to the junction of Hwy 76 and turn south 3 miles to the entrance of Effigy Mounds National Monument.

It is also 130 miles north of I-80 from Davenport, IA. Follow Hwy 62 north to Dubuque and there take Hwy 52 north until you reach Hwy 18 go left to Marquette and follow Hwy 76 north 3 mile to the entrance.