Things To Know Bicycle Information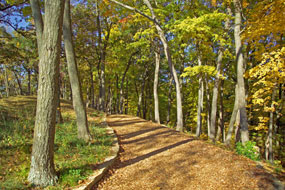 NPS Photo
There are no bicycle trails nor is the use of bicycles allowed in the Monument. High impact recreational activity is limited at the Monument due to the sacred nature of the site.

Traveling by bicycle to Effigy Mounds can be dangerous. From Marquette, State Highway 76 is a very narrow road with no shoulders nestled between railroad tracks and a sheer 400 foot limestone hillside. From the north Highway 76 approaches Effigy Mounds on a narrow roadway including a steep downhill grade.


Did You Know?

In 1880, Alfred J. Hill and Theodore H. Lewis formed the Northwestern Archeological Survey for the purpose of surveying mounds in the Upper Mississippi Valley. Lewis spent eleven field seasons in Iowa and was the first to map mounds in the present Effigy Mounds National Monument.