Things To Know Bicycle Information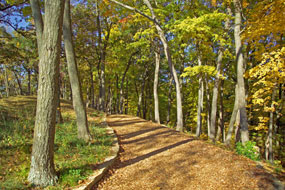 NPS Photo
There are no bicycle trails nor is the use of bicycles allowed in the Monument. High impact recreational activity is limited at the Monument due to the sacred nature of the site.

Traveling by bicycle to Effigy Mounds can be dangerous. From Marquette, State Highway 76 is a very narrow road with no shoulders nestled between railroad tracks and a sheer 400 foot limestone hillside. From the north Highway 76 approaches Effigy Mounds on a narrow roadway including a steep downhill grade.


Did You Know?
The Sny Magill Unit of Effigy Mounds National Monument preserves at least 106 mounds representing the largest group of mounds in one location found in North America. The Unit contains two bird mounds, three bear mounds, 6 linear mounds and 95 conical mounds including a 2500 year old red ochre mound.