Bicycling Information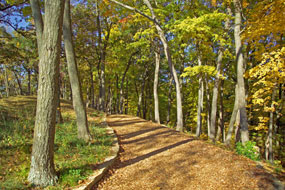 NPS Photo
There are no bicycle trails, nor use of bicycles on the Monument's hiking and walking trails. High impact recreational activity is limited at the Monument due to the sacred nature of the site.

Traveling by bicycle to Effigy Mounds can be dangerous; please use extreme caution on the approaches to the visitor center along HWY 76. There are no shoulders as you ride along a highway that hugs close to a railroad track (on the Mississippi River side) and 400 foot limestone bluff faces on the other.

Agricultural semi-trucks have trouble controlling their speed while trying to negotiate the steep downgrade on the approach from Harpers Ferry, IA.

From Marquette, motor vehicle operators need to concentrate on other vehicles to avoid hitting each other near the center line, especially when trying to avoid large chunks of limestone that intermittently fall from the bluff face.