Things To Know Before You Come

Thomas Edison NHP participates in the America the Beautiful Interagency Pass Program.
Groups require a reservation. To make a reservation call 973.736.0550 x33.

You must visit the Laboratory Complex Visitor Center to obtain your tickets for both Glenmont and the Laboratory Complex. **Due to road construction in Llewellyn Park through November 2013, Glenmont may need to close without notice.
Thomas Edison's home, Glenmont, does not have an elevator or railings for visitors with mobility challenges.
Teachers may receive a 15% discount at the bookstore with school ID.
There is no food or drink permitted in the Park. There is no picnicking at Glenmont. Smoking is not permitted in the Park.
Hand held photography is for personal use only. To protect the fabrics, paintings and artifacts, there is no photography allowed in any building at Glenmont .
Directions to the Park can found here.

Did You Know?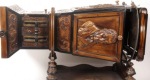 Did you know before Edison invented the phonograph people entertained themselves with a device called the megalethoscope. This device was used to view photographs through a large lens, which creates an optical illusion to create dramatic visual effects.