Operating Hours & Seasons
Laboratory Complex
Wednesday through Sunday, 10:00am - 4:00pm
Glenmont Estate
Friday, Saturday, and Sunday, 11:30am - 4:00pm

House Tours are offered between 12:00pm and 3:00pm. A ticketed tour is the only way to enter the house.
Additional Information
Tickets for a house tour are limited and distributed on a first-come first-served basis from the Laboratory Visitor Center.


Did You Know?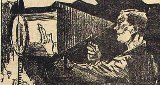 Clarence Madison Dally an employee of Thomas Edison at his West Orange research labs volunteered to work on the newly discovered x-rays. Using a fluoroscope, made of a fluoride gas filled light and two pieces of cardboard to focus the x-rays, Dally would expose himself to high concentrations of radiation eventually leading to radiation poisoning. After Dally's death when Edison was asked about x-rays he would respond with "Don't ask me about x-rays. I am afraid of them."