Road Closure

On November 2, 2014 because of road closures in Llewellyn Park the last Glenmont House tour will be at 2pm and the grounds will be closed at 3pm.
Schedule Of Events
Search for Events
Events Upcoming for October
Showing 2 results

 RSS Feed
Saturday, October 25, 2014

Enjoy local food and drink with vintage music under a tent at the Edison laboratory complex. More

Time:

5:30 PM to 8:30 PM

Location:

Laboratory Complex

Fees:

To order tickets visit www.foedison.org or call 973-736-2916 by October 17th.

Thursday, October 30, 2014

The Demolition String Duo featuring Elena Skye and Boo Reiners will record onto wax cylinders in the same way it was done in Edison's time over a century ago. More

Time:

7:00 PM to 8:00 PM

Location:

Laboratory Complex

Fees:

Fee Free

Did You Know?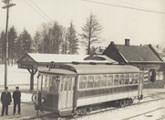 The storage battery provided electricity for train lighting, switching equipment, and railway signaling. Because it was an economical, lightweight option, it was used for a variety of tasks such as: powering telephone switchboards, emergency lights, truck and automobile lighting and ignition system.