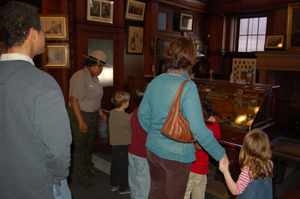 NPS Photo
The Marginalia of Thomas Edison
10:30am and 2:30pm Building 5 Library 1st floor
We take for granted that we can take notes on our laptop, or on our mobile phone, but what did Edison do? Stop by and check out Edison's notes.
The Recording Industry: Then and Now
11:00am, 12:00pm, 2:00pm, 3:30pm
Building 5 Library 3rd floor Music Room
Beginning with Edison, an overview of how the recording industry began and evolved into what it is today, employing song samples from each of the different eras of music.
Birth of the Movies
10:30am, 12:00pm, 3:15pm Building 5 3rd floor
Join us for a short discussion and viewing of the beginning of America's foremost commercial art form: motion pictures.
Highlights from the Black Maria Film + Video Festival
1:15pm Building 11
Specially selected award winning films from the Black Maria Film + Video Festival will be presented. Commentary on the films will be presented by Founder/Executive Director John Columbus.
Before Mad Men
11:30am, 1:30pm, 2:30pm Building 4
Join park archivists for Before Mad Men, a 45 minute program on Edison advertising, and learn how his company used color, interesting graphics and snappy copy to promote the phonograph, storage battery and other lab products. Ticket Required.
Laboratory Tour
10:30am Starts next to Building 11
Join a park ranger for a guided tour through the Main Laboratory Building. Tour lasts approximately 45 minutes. Ticket Required.
Thomas Edison and Innovation Management
4:00pm Building 1
The Friends of Thomas Edison national Historical Park will sponsor a talk on the contributions thatThomas Edison made to modern innovation management with Deborah Dougherty, Professor, Management and Global Business Department, Rutgers Business School, Rutgers, the Statae Universtiy of New JErsey. A member reception will follow. If you're not a member, join on Edison Day and attend the reception.
The Blacksmith Shop - New Exhibit
When a machine part broke, where did the company get it fixed? The Blacksmith Shop. Tucked away near the Pattern Shop, stop by Building 7 and see the newly opened exhibit.
Friends and Partners
As you wander around the event, stop by the various tables and meet many of the park's partners and local community groups. There is a lot to see and do in West Orange.