Talking Doll Record: Hear the Audio
Twinkle, twinkle, little star

Record format: Edison talking doll tin cylinder Location: Edison Laboratory, West Orange, New Jersey Recording date: circa November 1888 NPS object catalog number: EDIS 1279

Duration:

12 seconds

Credit / Author:

National Park Service

Date created:

2011-05-11

Download Original File:
National Park Service
Specifications of the tin cylinder phonograph record:
Estimated original outer diameter (if not misshaped): ~60.4 mm (~2-3/8 inch)

Estimated original inner diameter (if not misshaped): ~53.7 mm (~2-1/8 inch)

Width: ~ 11.4 mm (~7/16 inch)

Thickness: ~ 3.4 mm (~1/8 inch)

Groove threads per inch: 50

Groove type: Vertical cut, nearly uniform groove width.

Recording/playback speed: Unknown. (The playback speed/pitch of the recording as presented here was set by ear.)
Did You Know?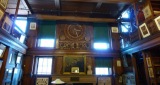 Henry Hudson Holly was a famous architect known for designing Victorian style houses such as the Glenmont Estate, the home of Thomas Edison. Edison was so impressed by Holly's work that he commissioned Holly to design his personal library in the laboratory, which is located down the street from the estate. However, Edison did not like the pace at which Holly was working, and he was eventually fired.