Photo Gallery
11 Photos

On May 11, 2011, scientists at the Lawrence Berkeley National Laboratory in Berkeley, California recovered sound from an artifact that historians believe is the earliest surviving talking doll record.

2 Photos

The Edison phonograph used by Theo Wangemann during his trip to Europe in 1889-90. This artifact is now owned by collector Stuart H. Miller, M.D.

14 Photos

Twelve wax cylinders recorded by Theo Wangemann in Europe during 1889-1890 (arranged here in catalog number order), and the original wooden box in which they were carried.


Did You Know?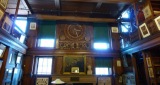 Henry Hudson Holly was a famous architect known for designing Victorian style houses such as the Glenmont Estate, the home of Thomas Edison. Edison was so impressed by Holly's work that he commissioned Holly to design his personal library in the laboratory, which is located down the street from the estate. However, Edison did not like the pace at which Holly was working, and he was eventually fired.