News Releases
Thomas Edison NHP News Release
For Immediate Release
Contact: Gerald Fabris - e-mail us
Phone: 973 736-0550 x48
Renowned Researcher Donates Rare Edison Recordings to National Park Service
WEST ORANGE, NJ - Researcher Raymond Wile has donated a major collection of antique phonograph records to the National Park Service at Thomas Edison National Historical Park. Museum Curators recently completed the final inventory of the gift. It includes 580 Edison Diamond Discs, 66 Edison Blue Amberol cylinders, 16 Edison Amberol cylinders, 8 Edison Gold Moulded cylinders, and 6 Edison Needle Type discs. The recordings date from 1905 to 1929, made by Thomas Edison's National Phonograph Company and Thomas A. Edison, Incorporated. Performances include rare takes by artists such as Italian operatic soprano Claudia Muzio, country music pioneer Ernest Stoneman, Czech violinist Vasa Prihoda, jazz quintet the Original Memphis Five, 1920s radio star Vaughn De Leath, and popular banjoist Vess Ossman. Also donated are 18 color photographs of a reunion of Edison recording artists that Wile hosted at the historic site on October 18, 1974.
A meticulous record sleuth, Raymond Wile collects Edison discs with an acute eye for detail, searching out especially rare takes and pressings. He began collecting and researching Edison disc records in the early 1950s, a few years before the National Park Service acquired the Edison Laboratory in 1956. At that time, Thomas A. Edison, Incorporated was still manufacturing products in factory buildings surrounding the Laboratory. A company-led foundation provided public tours and historical research services at the Laboratory, known then as the "Edison Foundation Museum." As Wile recalls, "Many of the old record operation employees were still around and working at the museum." During the 1970s, Wile lead a popular series of recording artist reunion programs which involved inviting still-living Edison phonograph artists as special guests, and playing unpublished "test pressing" recordings that the artists had not heard before.
Recognized as the foremost expert on Edison disc records, Wile received the "Lifetime Achievement Award" in 1993 from the Association for Recorded Sound Collections (ARSC). He is the author of several books on the early history phonograph recording. He has contributed writings to such publications as Record Research, ARSC Journal, New Amberola Graphic, and Talking Machine Review.
The National Park Service preserves approximately 28,000 disc phonograph records, 11,000 cylinder phonograph records, and 9800 disc metal molds at Thomas Edison National Historical Park. The park's sound archive represents the world's most complete collection of Edison disc phonograph records. The collection is significantly more complete now, due to this donation. For more information, visit the "Recorded Sound Archive" page on the Thomas Edison National Historical Park website at http://www.nps.gov/edis/historyculture/recorded-sound-archive.htm.
Thomas Edison National Historical Park is a National Park Service site dedicated to promoting an international understanding and appreciation of the life and extraordinary achievements of Thomas Alva Edison by preserving, protecting, and interpreting the Park's extensive historic artifact and archive collections at the Laboratory Complex and Glenmont, the Edison family estate. The Visitor Center is located at 211 Main Street in West Orange, New Jersey. For more information or directions call 973- 736-0550 extension 11or visit our website at www.nps.gov/edis
-NPS-

Did You Know?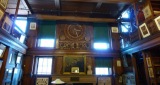 Henry Hudson Holly was a famous architect known for designing Victorian style houses such as the Glenmont Estate, the home of Thomas Edison. Edison was so impressed by Holly's work that he commissioned Holly to design his personal library in the laboratory, which is located down the street from the estate. However, Edison did not like the pace at which Holly was working, and he was eventually fired.