News Releases
Thomas Edison NHP News Release
For Immediate Release
Contact: Theresa Jung
Phone: 973 736-0550 x50
THOMAS EDISON & PORTLAND CEMENT - APRIL 2014
Year of Innovation Series Continues
WEST ORANGE, NJ – Turning lemons into lemonade, Edison used his experience handling iron ore to develop new methods of making Portland cement and designed a process to make affordable cement houses. Explore these ideas, attend a program, and see a special exhibit of original artifacts, documents and historic photos during the month of April at Thomas Edison National Historical Park. The programs are free and will be held at the Thomas Edison National Historical Park (NHP) Laboratory Complex at 211 Main Street unless otherwise noted.
1st Friday – April 4th at 2:30 p.m.
Edison's Concrete Houses
Naomi Kroll Hassebroek
Thomas Edison sought to revolutionize residential construction by mass-producing affordable, attractive, and durable homes for working-class families. From 1906 to 1910 he conducted extensive research into casting single-family houses with reusable molds and a single pour of concrete. This talk will examine Edison's ideas, experimentation, and patents, as well as the legacy of his research. Although Edison's own endeavors did not advance beyond the prototype stage, his associates and former employees used his ideas to build numerous workers housing projects in the U.S. and in Europe. Naomi Kroll Hassebroek has been an architectural conservator with the National Park Service since 1998, and has worked on numerous preservation projects at Thomas Edison National Historical Park. She first became interested in Edison's concrete experimentation while studying Conservation and Art History at NYU's Institute of Fine Arts. In 2009 she received travel grants from the Netherland-America and Albright-Wirth Foundations, enabling her to research Edison-concept houses in the Netherlands and France.
2nd Saturday – April 12th at 10:00 a.m. (especially for children)
Build a Better House
Thomas Edison said "Cement and steel are to be the building materials of the future." Learn how Edison was building poured cement houses and some of his other ideas for using cement. Can you build a better structure than Edison? Join rangers and put your engineering skills to work. Reservations are required and space is limited. Please call 973-736-0550 extension 89.
3rd Thursday – April 17th at 7:00 p.m.
The Concrete Industry
Mohamed Mahgoub, PhD and PE, NJIT
Somewhat ahead of his time, Thomas Edison believed that concrete would have a wide range of applications. He made significant improvements to the production process of cement. Edison owned a mill that was located at the valley of the Delaware River in New Jersey. His mill featured the first long, rotating kilns (cement production tubes) in the world at 150 feet long compared to the standard 60 to 80 feet at that time. Edison envisioned a future with concrete houses filled with concrete furniture, refrigerators, and pianos. He also started The Edison Portland Cement Company. Edison's concrete mix was seen to be hard and durable enough to remain intact. Mohamed Mahgoub, PhD and PE, is an NJIT Assistant Professor and Concrete Industry Management Program Director. He is an expert in bridge rehabilitation, inspection, rating, design and analysis. After joining NJIT, Dr. Mahgoub was involved in research of several construction material projects for several associations, companies, and state institutions. Different topics were investigated such as concrete strength, pervious pavements, fiber reinforced concrete, whitetopping pavements, and high performance concrete. Dr. Mahgoub has served as a member in several concrete industry related organizations such as American Society of Civil Engineers (ASCE), Precast/Prestressed Concrete Institute (PCI), International Concrete Repair Institute (ICRI), and American Concrete Institute (ACI).Dr. Mahgoub has more than 30 technical and scientific publications and presentations to his credit. In addition, he has been selected to be a reviewer for several reputable journals such as ACI Materials and Structural Journals, ASCE Bridge Journal, PCI Journal, and American Society for Testing and Materials (ASTM) International Journal. Dr. Mahgoub has been also serving as a panelist for the National Science Foundation, NSF and National Research Council (NRC).
Interested in learning more? Save the date…May 17, 2014
Field trip to Ogdensburg, New Jersey
Join the National Park Service and Dr. Paul Israel of the Thomas A. Edison Papers for an all-day trip to explore Edison's iron mining venture in Ogdensburg, and the relationship to mining at Sterling Hill. We will tour the Edison mine site on Sparta Mountain then tour the Sterling Hill Mining Museum (http://sterlinghillminingmuseum.org/). Our tour will include the crusher houses on the hill and conveyor building, with the intent of observing some of the mining and processing devices and inventions that were used in both the Edison and Sterling Hill mines.
The Sterling Hill Mining Museum and underground mine tour is wheelchair accessible. The mine tour includes a 1/4 mile walk on a dirt floor with a gentle slope. The mine is 55 degrees year-round. It is a vigorous walk up a rutty road to the Edison Mine location. Wear sturdy shoes and a jacket. Bring your own lunch or eat at the museum snack bar. Reservations will be required and space is limited for this program. Please contact theresa_jung@nps.gov for more information.
Special programs in April:
Saturday, April 5th from 10:00 a.m. to 4:00 p.m.
Greater Newark Mini Maker Faire at the Newark Museum
Hands-on Workshops in Art, Science & Technology. Admission fee.
For information and tickets: newarkmuseum.org/MakerFaireNewark

National Park Week 2014, Go Wild for National Parks
Thomas Edison National Historical Park will be joining national park sites around the country in celebrating National Park Week from April 19 to 27, 2014. The National Park Foundation is once again partnering with the National Park Service to spread the word about parks to millions of Americans. The joint website http://nationalparkweek.org will highlight activities and invite visitors to share their park photos, videos, and tips. This year's theme is "Go Wild!"
National Park Week activities at Thomas Edison NHP include:
Saturday and Sunday April 19th and 20th- Fee Free Days
Entrance fees will be waived for all visitors to the park on Saturday and Sunday April 19th and 20th. A fee free day is a great opportunity to discover new programs, new stories or for those who have never visited before, discover what the park has to offer.
Saturday, April 26th – Junior Ranger Day
During National Park Week, the National Park Service will show its appreciation for junior rangers by designating April 26th as Junior Ranger Day. Junior rangers explore, learn, and
protect national parks. Children of any age can become a junior ranger by completing a series of activities during their park visit and sharing the answers with a park ranger. At Thomas Edison NHP there are lots of ways to earn your junior ranger badge. Join a ranger for the program Hollywood, NJ and learn how to make a movie just like Edison. You can explore the laboratory with a ranger and find out if Thomas Edison ever texted. Space is limited on these programs and tickets are given out on a first-come, first-served basis. Prefer to earn your badge on your own? Pick up a junior ranger booklet at the visitor center and work alone or with your family to complete the book.
Sunday, April 27th at 12:00 p.m., 12:30 p.m., 1:00 p.m., 1:30 p.m.
Demonstration of a 19th century wax cylinder recording session
Dan Lipsitz and His Brass Tacksplayingon sousaphone, wood block/shot glass, trumpet, reeds, and resonator guitar will make a wax cylinder record just as it would have been over 100 years ago. Dan Lipsitz is a professional saxophone and clarinet player in New York City. His most recent project, "The Brass Tacks" is part of a recent resurgence of interest in early jazz music including dixieland and brass band music from the 1910s through the 1930s. The group has performed at venues through New York City and recently began performing at the Public Theater as part of their music series.
These programs are part of THE YEAR OF INNOVATION celebrating the New Jersey 350th Anniversary in 2014. Since 1664 New Jersey has provided a welcome home for inventors and entrepreneurs like Thomas Edison and there is no better place to learn about the history of innovation than Thomas Edison National Historical Park in West Orange. Special programs each month will explore the themes in EDISON AND THE RISE OF INNOVATION a recent book written by National Park Service archivist Leonard DeGraaf and published by Sterling Signature in October 2013. Another famous innovator – Bill Gates – has written the foreword to this fresh look at Thomas Edison. New programs for all ages will be offered monthly. For more information and updates about THE YEAR OF INNOVATION - First Friday, Second Saturday and Third Thursday events, please visit www.nps.gov/edis monthly. Follow us on Twitter and Facebook.
-NPS-

Did You Know?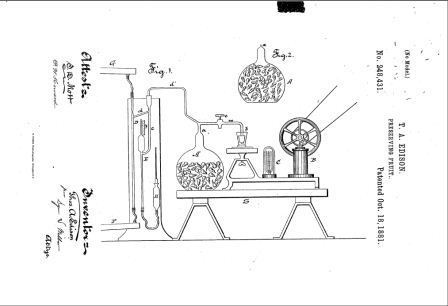 Thomas Edison had 1093 patents and one of them was a way to preserve fruits and vegetables. Patent 248,431, issued March 18, 1883. It wasn't just about phonographs, batteries, and movies.