News
Special programs in September:
New exhibition opening

August 28

:
TRANSFORMED: LOOKING AT THE AGE OF EDISON THROUGH THE WITNESS TREES OF GLENMONT
August 28

to

October 5, 2014
ValleyArts Firehouse Gallery, 580 Forest Street, Orange, NJ
An exhibition of artworks made from trees downed by Hurricane Sandy in 2012 from Thomas Edison's estate, Glenmont, in Llewellyn Park. A joint program of the Rhode Island School of Design (RISD), Thomas Edison NHP and ValleyArts, the exhibition will be featured at the ValleyArts Firehouse Gallery, 580 Forest Street, Orange NJ from
Thursday, August 28 through Sunday, October 5, 2014
. The Gallery is open Thursdays
5:00 p.m. to 7:30 p.m.
; Saturdays
10:00 a.m. to 4:00 p.m.
; Sundays
1:00 p.m. to 4:00 p.m.
and by appointment. Admission is free.
Exhibition Events:
Preview Opening –

Thursday, August 28, 5:00 p.m. – 7:30 p.m.
Featuring a short talk with National Park Service Curator Beth Miller on the Edison's at Glenmont. Beth Miller is a graduate of the Seton Hall University museum professions program and the historic preservation program at Drew University. She obtained her undergraduate degree from Montclair State University in both studio art and art history. She received a grant from the New Jersey Historical Commission to publish a catalogue of the works of art at Glenmont in the year 2000.
Opening Celebration –

Saturday, September 6
4:30-7:30 p.m.
– Artists' Reception
Gallery Talk speakers: Charlie Pepper (horticulturist, senior project manager, preservation maintenance and education, Olmstead Center for Landscape Preservation), Susanna Bohme (lecturer in history, philosophy and social sciences, RISD), Dale Broholm (senior critic, Department of Furniture Design, RISD), and students from RISD.
Gallery Talk –

Saturday, September 20, 3:00 p.m.
Michael Commisso, historical landscape architect and co-author of the Cultural Landscape Report for Glenmont (2012), on the development of Llewellyn Park and Glenmont from a landscape perspective.


Did You Know?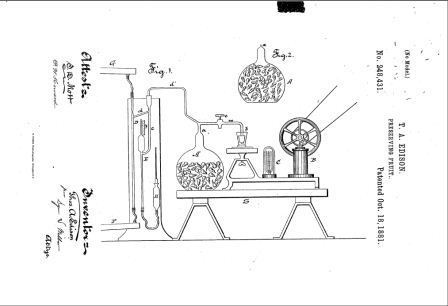 Thomas Edison had 1093 patents and one of them was a way to preserve fruits and vegetables. Patent 248,431, issued March 18, 1883. It wasn't just about phonographs, batteries, and movies.