Laws & Policies
Firearms in National Parks
The law governing possession of firearms inside a national park changed on February 22, 2010.
Visitors may possess firearms within a national park unit provided they comply with federal, state, and local laws.
The role of the responsible gun owner is to know and obey the federal, state, and local laws appropriate to the park they are visiting.
Please remember that federal law prohibits firearms in certain park facilities and buildings. These places are marked with signs at public entrances.
For more information
Please visit
www.nps.gov/nero/firearms/
Did You Know?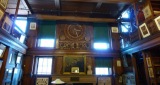 Henry Hudson Holly was a famous architect known for designing Victorian style houses such as the Glenmont Estate, the home of Thomas Edison. Edison was so impressed by Holly's work that he commissioned Holly to design his personal library in the laboratory, which is located down the street from the estate. However, Edison did not like the pace at which Holly was working, and he was eventually fired.