William Leslie Edison
NPS Photo
William Leslie was born on October 26, 1878. Like his older brother, William boarded at St. Paul's School, Concord, New Hampshire, and the J.M.HawkinsSchool on Staten Island. He later studied at the SheffieldScientificSchool at Yale. He married Blanche Travers. He served in the military during the Spanish-American War in 1898 and again in the First World War (though he wrote his father in 1918 in a failed attempt to get a discharge).
NPS Photo
Relations between William and his father were strained. Edison once responded to a request for money from Blanche Edison by writing, "I see no reason whatever why I should support my son. He has done me no honor and has brought the blush of shame to my cheeks many times." Like his brother he turned to farm life, breeding chickens. He died on August 10, 1937.
Did You Know?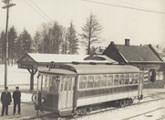 The storage battery provided electricity for train lighting, switching equipment, and railway signaling. Because it was an economical, lightweight option, it was used for a variety of tasks such as: powering telephone switchboards, emergency lights, truck and automobile lighting and ignition system.