Road Closure

On November 2, 2014 because of road closures in Llewellyn Park the last Glenmont House tour will be at 2pm and the grounds will be closed at 3pm.
2014-2015 School Programs
Did You Know?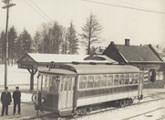 The storage battery provided electricity for train lighting, switching equipment, and railway signaling. Because it was an economical, lightweight option, it was used for a variety of tasks such as: powering telephone switchboards, emergency lights, truck and automobile lighting and ignition system.