Year of Innovation: April's Featured Exhibit is Edison Portland Cement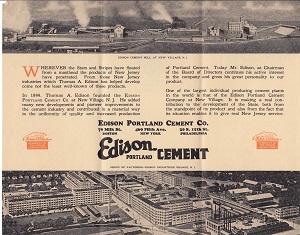 While attempting to develop his ore milling process to concentrate low-grade iron ore, Thomas Edison found that he could sell the waste sand to cement manufacturers.  In 1899, he decided to investigate how he might transfer his rock-crushing technology to the production of Portland cement.  During the next few years, Edison made other improvements in cement manufacture, the most important of which was a long rotary kiln which was used at the automated plant he built in Stewartsville, New Jersey, and eventually licensed to other manufacturers.  The kiln, though, helped lead to overproduction in the industry, and the Edison cement plant was never very profitable.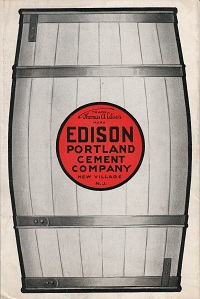 Edison Portland cement was used extensively for buildings, roads, dams, and other structures, including the garage and potting shed at his Glenmont Estate, and in 1922, Yankee Stadium.  Edison also designed a system for building inexpensive cement houses that he planned to license to other manufacturers.  His plan was to construct cement houses in one continuous pour, using reusable iron molds.  Several developers and contractors used Edison's concepts to construct houses in New Jersey and Pennsylvania.  A few houses in Europe were constructed using this process, also.   
Year of Innovation, Exhibit, Portland Cement, Advertisement