Visitor Learns More About Grandmother During Park Visit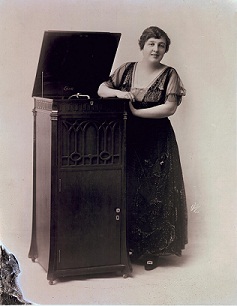 Upon finishing a talk and demonstration of the phonograph in the Music Room, a couple waited around to ask a few questions to Ranger Carmen Pantaleo. The woman said that her grandmother had actually sung for Edison. After explaining that the pictures on the walls were some of the recording artists from Edison's time, Carmen began reading some names off. The visitor then told Carmen that her grandmother's name was Betsy Shepherd. According to Carmen, "As I made my way around the room I approached the coat rack. I told her, 'You won't believe this, but here is a picture of Betsy Lane Shepherd.'" The visitor was so amazed and surprised, and Carmen took plenty of photographs for her to take home.
"She said she was shaking and had goose bumps from this experience. She just couldn't believe that there was an actual picture of her grandmother there on the wall. It is amazing how you always hear stories about someone's relative who had worked for Edison over all the years, but to have some kind of actual proof is just amazing. I know that on that day I made someone's dream come true of connecting a family member to her family history."
A number of Shepherd's recordings survive and can be listened to here, courtesy of the Internet Archive.
Recording Artist, Betsy Lane Shepherd
Post A Comment
Did You Know?

Thomas Edison passed away in 1931 and his wife Mina passed in 1947. They were buried at Rosedale Cemetery. In 1963, the family had Thomas and Mina re-buried at the home they loved and where they spent their 44 years together - Glenmont.