Featured Manuscript: Finding the Buried Treasure
Finding the Buried Treasure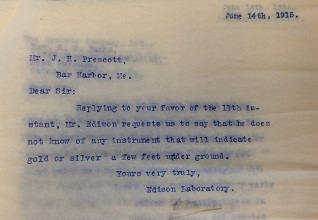 If you had lived during Edison's lifetime and had given some thought to looking for buried treasure, don't you think you would have asked the "Wizard" himself for technical assistance? As it turns out, a number of folks wrote to Edison over the years asking if he had developed a device "for locating hidden treasure," one that could detect metals, especially gold and silver, a few feet underground. In at least a few instances in 1915 alone, Edison offhandedly replied that a local electrician could use a sensitive dipping needle "to try and locate any iron object buried in the ground." 
While Edison and his secretary told his inquirers "he does not know of any instrument that will indicate gold or silver a few feet under ground," Alexander Graham Bell had already famously used a crude method of metal detection while trying to locate an assassin's bullet in President James Garfield.[1] While unsuccessful in that instance, metal detection had already been an area of interest to scientists for a few decades. By the end of World War II, metal detection would become a hobby for many Americans as portable metal detectors hit the open market.[2] 
[1] http://www.pbs.org/wgbh/amex/telephone/peopleevents/pande01.html,
[2] http://www.nps.gov/archeology/sites/npsites/kingsMtn.htm
Metal detection, Featured Manuscript
Post A Comment
Did You Know?

Thomas Edison passed away in 1931 and his wife Mina passed in 1947. They were buried at Rosedale Cemetery. In 1963, the family had Thomas and Mina re-buried at the home they loved and where they spent their 44 years together - Glenmont.