Early Edison Cylinders Visit Northeast Document Conservation Center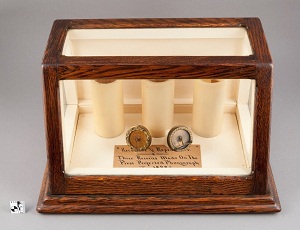 In early April, museum curator Jerry Fabris visited Northeast Document Conservation Center in Andover, Massachusetts. His mission? To scan and digitize three of the earliest examples in history of recorded sound using the NEDCC's IRENE digital scanning system. Three "yellow paraffine"-type wax cylinder phonograph records, dating from circa 1888 or early 1889, accompanied Jerry on his visit. To learn more, visit the
NEDCC blog
for details on the visit!
Conservation, Sound Recording, Wax Cylinder
Post A Comment
Did You Know?

Thomas Edison passed away in 1931 and his wife Mina passed in 1947. They were buried at Rosedale Cemetery. In 1963, the family had Thomas and Mina re-buried at the home they loved and where they spent their 44 years together - Glenmont.