Early Edison Cylinders Visit Northeast Document Conservation Center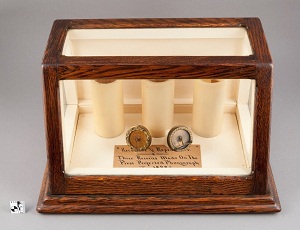 In early April, museum curator Jerry Fabris visited Northeast Document Conservation Center in Andover, Massachusetts. His mission? To scan and digitize three of the earliest examples in history of recorded sound using the NEDCC's IRENE digital scanning system. Three "yellow paraffine"-type wax cylinder phonograph records, dating from circa 1888 or early 1889, accompanied Jerry on his visit. To learn more, visit the
NEDCC blog
for details on the visit!
Conservation, Sound Recording, Wax Cylinder
Post A Comment
Did You Know?

There is a rumor that Edison was actually born in Mexico, based on his middle name Alva. However, Alva was the name of a family friend, Captain Bradley. When he was young, Edison's nickname was "Al," from his middle name Alva.