Curators' Curiosity Corner
About This Blog
This blog features articles and projects written by the Cultural Resources staff and interns here at Thomas Edison NHP. Unique artifacts and documents, as well as interesting projects, will be featured here.
In 1914, Thomas Edison instituted a new policy in his West Orange laboratory prohibiting the smoking of cigarettes. This, and comments he shared with his friend Henry Ford, sparked off a public debate over cigarette smoking.
Did You Know?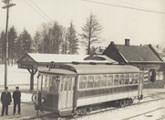 The storage battery provided electricity for train lighting, switching equipment, and railway signaling. Because it was an economical, lightweight option, it was used for a variety of tasks such as: powering telephone switchboards, emergency lights, truck and automobile lighting and ignition system.