Curators' Curiosity Corner
About This Blog
This blog features articles and projects written by the Cultural Resources staff and interns here at Thomas Edison NHP. Unique artifacts and documents, as well as interesting projects, will be featured here.
If you had been around during Edison's time, wouldn't you have asked him for help detecting buried treasure?
Halloween might be seven months away, but this featured manuscript includes Edison asking a friend about some mummy eyeballs.
The unnamed Edison employee who wrote this lengthy entry, dated May 31, 1916, turned a laboratory notebook upside down and began writing from the end of the volume. The front of the notebook has twenty to thirty pages of drawings of phonograph horns, probably by another hand. The entry is fascinating as it chronicles some of the travels of this self-proclaimed 28-year old bachelor.
Did You Know?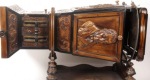 Did you know before Edison invented the phonograph people entertained themselves with a device called the megalethoscope. This device was used to view photographs through a large lens, which creates an optical illusion to create dramatic visual effects.