Curators' Curiosity Corner
About This Blog
This blog features articles and projects written by the Cultural Resources staff and interns here at Thomas Edison NHP. Unique artifacts and documents, as well as interesting projects, will be featured here.
In this final installment, Nick and Evan tell some of the more interesting stories from the 1914 fire, including Mina's efforts as well as the reaction from some of Edison's more famous contemporaries.
This blog post, written by our two high school interns Nick & Evan, covers the story behind Edison's Fire Companies as well as the sequence of events surrounding the fire here at the complex on December 9, 1914.
The first post of a new series, Nick and Evan discuss how their project came into being and what the early processes have been like thus far.
Did You Know?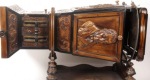 Did you know before Edison invented the phonograph people entertained themselves with a device called the megalethoscope. This device was used to view photographs through a large lens, which creates an optical illusion to create dramatic visual effects.