Curators' Curiosity Corner
About This Blog
This blog features articles and projects written by the Cultural Resources staff and interns here at Thomas Edison NHP. Unique artifacts and documents, as well as interesting projects, will be featured here.
Thomas Edison NHP is celebrating a "Year of Innovation", using the 350th Anniversary of New Jersey as an opportunity to showcase unique artifacts from the collection. April's featured exhibit is Edison Portland Cement. The exhibit features historic photographs as well as advertisements.
Did You Know?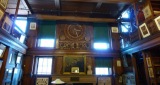 Henry Hudson Holly was a famous architect known for designing Victorian style houses such as the Glenmont Estate, the home of Thomas Edison. Edison was so impressed by Holly's work that he commissioned Holly to design his personal library in the laboratory, which is located down the street from the estate. However, Edison did not like the pace at which Holly was working, and he was eventually fired.