Curators' Curiosity Corner
About This Blog
This blog features articles and projects written by the Cultural Resources staff and interns here at Thomas Edison NHP. Unique artifacts and documents, as well as interesting projects, will be featured here.
It's not every day that somebody comes to the park and says that a relative had sung for Edison here at the laboratory. But that's just what happened to Ranger Carmen Pantaleo recently.
Did You Know?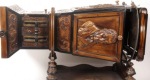 Did you know before Edison invented the phonograph people entertained themselves with a device called the megalethoscope. This device was used to view photographs through a large lens, which creates an optical illusion to create dramatic visual effects.