Quoth the Visitor_Evermore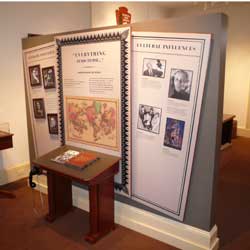 NPS Photo
Don't take our word for it! Read what our visitors have to say about the Edgar Allan Poe National Historic Site! Comments are taken from our site visitor register. Be sure to sign in during your visit!

"A dream of a lifetime" - Philadelphia
"I will be Raven about this to my friends" - Philadelphia
"This was so cool since we just studied Poe in school." - Connecticut
"The best spot in Philly yet!" - Columbus, OH
"Its wonderful to see Poe's home and have a glimpse of his life." - Philippines
"Wonderful author, Great imagination" - McKinney, TX
"Long live Edgar Allan Poe" - Florida
"Kwel place!" - Kirkland, WA
"Beautiful place. Many thanks" - South Bend, Indiana
"Awesome place! Captures Poe's essence perfectly" - Florida
"Thanks!" - El Segundo, CA
'Poe-r-ful,Fascinating!" - Yuma, AZ
"An amazing and mysterious place!" - France
"Not sure yet, just signing in." - Wilmington, DE
"Very enlightening. Thanks." -Illinois
"Amazing! The cellar looks like the "Tale-Tell Heart!" - Snellville, GA
"The wall are amazing!" - NY
"Finally here after 39 years as a local" - Holmes, PA
"Its interesting to know about famous writer, critic" - Ukraine
"I love Poe's writing …. A pleasure to be here" - Mexico
"Awe-inspiring" - Pittsburgh, PA
"Love Poe" - Dallas, TX
"The greatest writer in history! It's worth coming." - Spain/Argentine
"Memorable" - NJ
"The creepiest basement I've seen" - Pittsburgh, PA
"No locked rooms?" - Chicago
"Bombdiggity! – beautiful and informative display. Thank you!" - Dallas, TX
"Truly wonderful museum. Enjoyed it very well. 2 Thumbs up!" - Berlin, OH
"Marvelous!" - Greece
Tragic surroundings mirror tragic self." - NY
"Interesting way to see a side of Phila. Besides the Liberty Bell" - PA
"Wonderful! May this house never "fall" - NJ
"Poor Edgar" - Poland
"Great, fabulous, awesome. Much better than I imagined" - Port Washington, NY
"Enjoyed the new exhibits and the visit! Keep up the great work!" South Orange, NJ
"A perfect tribute! – California"
"Glad I came!" – Phoenix, AZ
"I love him and his house reminds me of him!" - Argentina
"Awesome" – South Korea
"Lovely" – New Hampshire
"Got to see the basement" – Hazeltown, NJ
"Well laid out & Great to wander through" – Perth Western, Australia
"A frighteningly, awesome experience!" – New Jersey
"Was worth the walk. Thank you!." – Washington, DC
"Fantastic that this site been preserved!" – Detroit, MI
"Please keep it evermore!" - Sao Paulo, Brazil
"Reading room was the best" – Chicago, IL
"Chilling and educational." – Texas
"Outstanding Experience" – Michigan
"Very cool. Poe is my favorite poet" – Liberty Center, Ohio
"Very, Very interesting" – Germany
"Pretty historical" – Baton Rouge, LA
"Brings Poe ALIVE for us" – Buffalo, NY
"Glad to visit" – Leesburg, VA
"Wonderful experience. Thank you for this opportunity" – Connecticut
"Creepy. I like the sound of it" – France
"Amazing and really cool, but the basement is creepy" – NJ
"Beautiful and impressive place. I hope it will be preserved well" – South Korea
"This is best of the four Poe homes I have toured" – Baltimore, MD
"Magnificent!" – Philippines
"Scary!" – Portland, OR
"Yee-Haw!!" - Hico, TX
"Fantastic!" - Seoul, Korea
"Really, interesting place!" - Valencia, Spain
"Hallowed ground for an English teacher! Thank you!" California
Creepy! - Sugarland, TX
"A microcosm of terror!" Ithaca, NY
"We love Poe!" - Tennessee
"Unexpected - empty, yet fascinating!" - Lancaster, PA
"Time to read more Poe!" - Austin
"Awesome and Free!" - Pawtucket, RI
"Learned more than I did in American Literature", Rhode Island
"It looks very much like he may still live here!" Pine Hill, NJ
"Glad I came!" - Oaklyn, NJ
Poe's Bicentennial Comments
"Happy Birthday, Master" - PA
"Happy 200th Mr. Poe!" - Delaware
"Poe Evermore!" - PA
"Poe is truly a genuine, gifted writer!" - PA
"Very enlightening and enjoyable!" - NJ
"I Love this guy!" - Richboro
"Interesting" - Los Angeles, CA
"Excellent works!" - Florida
"Cool place" - CA
"I love Poe. He is a genius!" - CO
"An inspiration.." - London, England
"Scary!" - Minneapolis, MN
"Definitely macabre" - MN
"Awesome!" - Korea
"Very well presented" - Bahrain, Middle East
Did You Know?
Poe lived in 5 different locations over the six years he spent in Philadelphia.