Plan A Field Trip
Library of Congress
The Edgar Allan Poe National Historic Site is open Friday - Sunday from 9 AM - 5 PM. Our site is closed Monday through Thursday. Please note our maximum number of 25 students per program.

The six years that Edgar Allan Poe lived in Philadelphia are considered his most productive. He established his reputation as a literary critic, perfected his gothic tales, such as the "Fall of House of Usher," invented the modern detective story with "Murders in the Rue Morgue," pioneered science fiction stories, and wrote in his favorite literary genre-poetry. The Edgar Allan Poe National Historical Site offers two ranger guided education programs.

Program Descriptions

1. Poe's Life, Literature, and Legacy
Students explore interactive exhibits that reveal Poe's many literary interests and his influence on other writers and artists. Students view an 8-minute biographical film. Students join a park ranger on a visit through Poe's home focusing on his life, literary accomplishments and legacy.
Program length: 1 hour
Program times: 10:00 AM, 1:00 PM, 3:00 PM
Maximum group size: 25 students
Cost: Free

2. Poe in Philadelphia
This curriculum-based program includes the elements of "Poe's, Life, Literature, and Legacy" with a fun, interactive game based on "Jeopardy." Students work in teams to use the knowledge they have gained from their class work and visit to compete for educational prizes.
Recommended for middle school level students.
Program length: 1 ½ hours
Program times: 10:00 AM, 1:00 PM
Maximum group size: 25 students
Cost: Free


Reservations
Reservations must be requested at least two weeks in advance of date requested. Our site is open Friday to Sunday. To make a reservation please email your request to Missy_Hogan@nps.gov with the following information:

Requested Program Title, Date and Time
Number of Students
Full Name

School Name
Email Address
Ten Digit Telephone Number


Did You Know?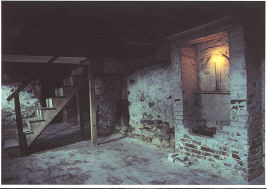 Edgar Allan Poe dedicated The Raven and Other Poems "TO THE NOBLEST OF HER SEX..." Elizabeth Barrett Barrett [Browning].