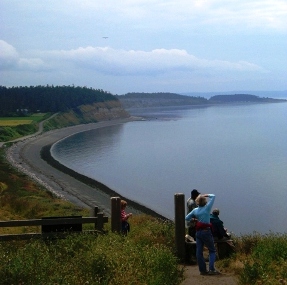 Reserve Guided Walks & Talks
Join the Trust Board and National Park Service to experience the history, nature and beauty of Ebey's Lading National Historical Reserve. Programs are free, fun for people of all ages, and informative to both locals and visitors. Contact 360-678-6084 for details. Special tours can be arranged upon request.
EVENTS
2014 Ebey's Conference
The Trust Board of Ebey's Landing NHR is pleased to present the 2014 Ebey's Conference - DISCOVER EBEY'S!
Celebrating an American Cultural Landscape - the History and Community of Ebey's Landing National Historical Reserve.
Join us on Saturday, October 4, 2014 for this one day conference exploring the history, the agriculture and the future of Ebey's Landing National Historical Reserve. We welcome Nancy Nelson, Superintendent of Minute Man National Historic Park as the keynote speaker, who will share and discuss the similarities between Minute Man and Ebey's Reserve - the struggles and victories as both navigate the waters of preservation, visitor & tourism management, agrigulture, and issues of public vs. private.
For more information on the conference and to register, please select DISCOVER EBEY'S. Hope to see you in Coupeville!