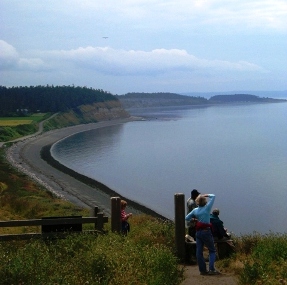 Reserve Guided Walks & Talks
Join the Trust Board and National Park Service to experience the history, nature and beauty of Ebey's Lading National Historical Reserve. Programs are free, fun for people of all ages, and informative to both locals and visitors. Contact 360-678-6084 for details. Special tours can be arranged upon request.
EVENTS
Annual Preservation Field School
Join Preservation Coordinator, Sarah Steen, and learn historic building techniques, contribute to the preservation of the reserve, and have fun restoring a historic structure within the Reserve. This year, in conjunction with Washington State Parks, the Field School will tackle the Battery Moore Plotting Room at Fort Casey. For more information on how you can participate, or for details on the project, please contact Sarah Steen at the Reserve office, 360.678.6084, or send an email to e-mail us.
Ebey's Conference
The Trust Board of Ebey's Landing NHR is pleased to present the 2014 Ebey's Conference - DISCOVER EBEY'S!
Celebrating an American cultural landscape - the History and Community of Ebey's Landing National Historical Reserve. Discover Ebey's Landing National Historical Reserve from a new perspective. More information coming on the Ebey's Conference but Save the Date and mark your calendar for October 4, 2014. Hope to see you in Coupeville at the Conference!