Natural History




"Come look from this eminence of bluff, now in the soft hour before daybreak . . . the island's farm fields are leather and corduroy, rich even panels between black-furred stands of forest. Tan grass . . . whisks soundlessly against a four-wire fence line. Yes, rural America of the last century."


Ivan Doig
Winter Brothers, 1980
The landscape of the Reserve, with its pattern of field, forest, and shoreline, has a quiet kind of beauty all its own. Part of this beauty lies in the diversity of its land forms, and vegetation. Within the boundaries of the 17,400-acre Reserve there are five distinctive character areas which together comprise the natural landscape. Overlaying each of these are the tangible reminders of man's presence upon the land.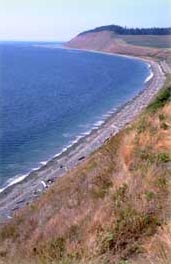 Coastal Strip
The western shore of the Reserve, along Admiralty Inlet, is an eight-mile strip of narrow beach that gives way to dramatic bluffs and low ravines. The elevation ranges from seal level to just over 200 feet. Many of the bluffs are sparsely vegetated, relatively unstable, and constantly eroding. Access to the fragile bluffs is limited to a trail that runs through State Park property along the crest of the bluff, meeting The Nature Conservancy property and then NPS lands. Please stay on the trail to prevent erosion from occurring.
Prairies
Three large natural prairies cover over 5000 acres of the Reserve. These prairies formed over 13,000 years ago by the receding glaciers. All are defined by ridges that embrace the rich fertile soils, an especially valuable resource. About one-third of the prairie lands are planted in squash, grains, forage, seed and feed crops. The remainder are a mixture of wetlands, pastures, woodlands, and farmsteads. Together these features form a cohesive character area, one that holds the telling physical remnants of human history-old fence lines, hedgerows, orchards, field patterns, weathered barns, and historic farmhouses.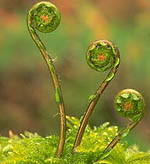 Woodlands
Two large, densely wooded areas on the Reserve comprise just over 4500 acres. These forests are primarily second and third-growth Douglas fir and Western red cedar, with an understory of alder, salal, and rhododendron. Steep-sided, glacial-melt depressions called kettles, some over 200 feet deep, are found within these forested areas. With the exception of Fort Ebey State Park and Rhododendron Park, the woodlands of the Reserve remain relatively undeveloped and inaccessible.
Uplands
The upland areas of the Reserve are undulating, gently rolling hills that sweep up from the shorelines on either side of the island. Primarily pastures and cultivated fields carved out of woodland stands, these areas are sparsely settled with scattered farms and residences, forming a patchwork on the pastoral land.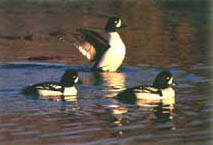 Penn Cove
Penn Cove, with its own special ambience, covers over 4000 surface acres. This scenic shoreline changes from low beach front at Monroe's Landing, to uplifted banks at Coupeville. Along the west edge of the cove, the lowlands shelter lagoons that provide a rich habitat for waterfowl and migratory birds. Modest beach cottages contribute to the peaceful setting at Good Beach and Snakelum Point, where permanent and seasonal residents enjoy the tranquillity of the quiet cove.


Hedgerows

Dirty fences or farmers' best friends?

Naturalist's Guide

A spring and summer guide to Ebey's Landing. Read More