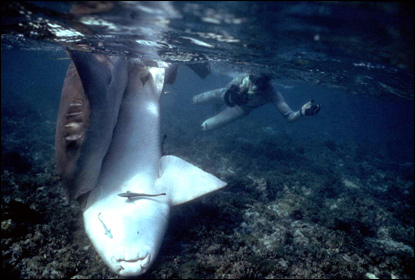 Wes Pratt, Mote Center for Shark Research
Knowingly or not, people swim near nurse sharks every day without incident. Attacks on humans are rare but not unknown and a clamping bite typically results from a diver or fisherman antagonizing the shark with hook, spear, net, or hand. The bite reflex is such that it may be some minutes before a quietly re-immersed nurse shark will relax and release its tormenter. The small teeth seldom penetrate deeply but are razor sharp. Holding still reduces damage to both shark and man. Leaving sharks alone is the best tactic.
Nurse sharks were caught in directed fisheries in the 1940s for their hides (shark leather) and liver oil and killed as by-catch in long lining and trap and net fisheries. They are regarded as too sluggish for sport fishing and are undesirable for food or the fin trade.
The flesh of sharks and other long-lived fish species concentrates mercury and other toxins and should be avoided. Nurse sharks have been kept by aquarists and researchers as they are hardy, live a long time, and are quick learners. However, keeping them in home aquaria is not wise as they will eventually reach 9 feet long! They are more valuable to all of us alive and free in the ocean.
More importantly, with the help of the nurse shark as an easily observed and studied species, we are learning the importance of sharks in tropical ecosystems. Their apex position in the ocean's energy flow makes them equivalent to the lions and tigers of terrestrial systems. By studying the nurse and other shark species, we are just beginning to understand how the life history and activities of these sharks is important in balancing oceanic food webs and keeping coral reef ecology healthy and diverse.