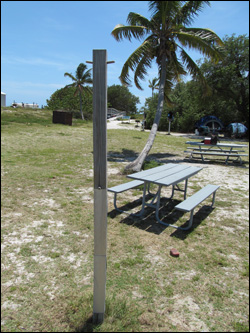 NPS / Nick Fuechsel
Like other islands vulnerable to exotic species, the Dry Tortugas support a population of black rats (Rattus rattus). Rats have inhabited the Tortugas probably since the arrival of humans. Though the size of the rat population is controlled through abatement efforts, rats may be encountered as they forage through campsites looking for food. Campers are most affected by this nuisance rat population and are made aware, through site bulletins and ranger education, of the need to safeguard food. The only reliable way to protect food and protect damage to gear is to store your food and food trash in hard-sided containers. Rats will chew through tents or backpacks if they smell food and can also climb the provided hanging posts.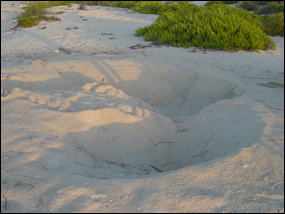 Photo courtesy of Eloise M. Pratt
Rats also can potentially affect nesting sea turtle and bird activities through predation of eggs. The Dry Tortugas provide critically valuable nesting habitat for vulnerable wildlife such as sea turtles and sooty terns because of the lack of native mammalian predators like raccoons and fox. Because one of the mission goals of the National Park Service is to ensure that native plants and animals are not impaired by invasive exotic plants or animals, abatement efforts against the rat population take place regularly.