Usage of Mooring Buoys in Dry Tortugas National Park
Boat Permits and Mooring Buoy

A boat permit is required for all non-commercial vessels for which occupants are engaged in recreational activities and all activities in the RNA. These activities include but are not limited to anchoring, the use of mooring buoys, snorkeling, diving and visiting Loggerhead and Bush Key.

Please contact a park employee at Garden Key upon your arrival to acquire a permit. They will issue you a free boat permit and provide valuable information regarding park regulations, park fees, the RNA, special protection closures, fishing and how to safely enjoy your visit while protecting the park.

Park Rangers monitor marine channels 16 and 10 if you require assistance prior to landing on Garden Key.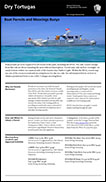 To view details about boating permits and requirements, and buoy usage, click on the image.

To obtain most current restricted usage for mooring buoys within Dry Tortugas National Park, see latest press release here.
To view other park information and regulations, visit the brochure page.