Things To Know Before You Come
Proper planning and preparation will help ensure you have an enjoyable visit and get the most out of your tme at Dinosaur National Monument. While most visitors visit only the dinosaur fossils at the Quarry Exhibit Hall, there is much more to the Monument. While here, you may want to explore Fremont petroglyph sites, historic homesteads and ranches, the many miles of hiking trails, scenic views from the Harpers Corner Road or wild canyons on a whitewater rafting trip.
Dinosaur covers over 210,000 acres and is spread across two states. It can take over four hours to drive from the Quarry Visitor Center in the Utah portion of the monument to the Gates of Lodore area located on the north end of the monument in Colorado. Remember that the nearest fuel, lodging, and other services may be over an hour drive from various points in the monument.
Directions
The directions page has more information about how to get to the monument, drive times and maps.
Weather
Check out the weather page for links to a current forecast and average temperatures throughout the year.
Safety
Your safety is our number one priority. Visit the safety page for important information.
Pets
While your pet is welcome in the monument, pets are not allowed on most trails, in the monument's backcountry, or in public buildings. Due to the hot summer temperatures, do not planning on leaving pets in a vehicle for any amount of time. See our pet's page for more information on visiting with your pet.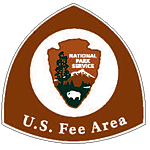 Fees
All monument visitors are required to purchase a recreational use pass upon entering Dinosaur National Monument. Visit our fees page to find more information on entrance fees and annual passes.