Access to the Fossil Discovery Trail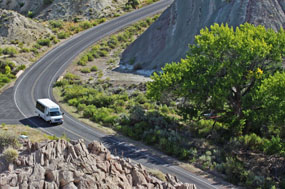 NPS Image
The 2011 Shuttle Schedule is valid from September 29th-October 3rd. On September 28th, it is identical except the first shuttle leaves the visitor center at 8:45 and the last shuttle leaves at 1:15.
Starting October 4th through October 9th, the shuttle will switch to provide service from the visitor center to the Quarry Exhibit Hall. At that time there will be no shuttle service to the Fossil Discovery Trail. The shuttle will start running at 9:15 with the last trip to the Quarry at 4:15. It will run at least every half hour starting October 4th.
Did You Know?

Do you know the difference between a petroglyph (pictured here) and a pictograph? Petroglyphs are images pecked into rock while pictographs are painted images. Dinosaur National Monument preserves both forms of Native American rock art.