Harpers Corner Road Closed for Winter

The Harpers Corner Road is closed for the winter at Plug Hat Picnic Area which is approximately five miles from US Highway 40. More »
Ely Creek Backcountry Campsites Closed

The Ely Creek backcountry campsites located along the Jones Hole Trail have been closed until further notice due to bear activity in the area. More »
Access to the Fossil Discovery Trail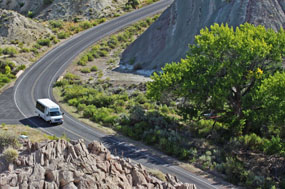 NPS Image
The 2011 Shuttle Schedule is valid from September 29th-October 3rd. On September 28th, it is identical except the first shuttle leaves the visitor center at 8:45 and the last shuttle leaves at 1:15.
Starting October 4th through October 9th, the shuttle will switch to provide service from the visitor center to the Quarry Exhibit Hall. At that time there will be no shuttle service to the Fossil Discovery Trail. The shuttle will start running at 9:15 with the last trip to the Quarry at 4:15. It will run at least every half hour starting October 4th.
Did You Know?

Dinosaur National Monument's geology is a feast for the mind and the eye. The rock layers, which have been tilted by folding, expose a variety of colors and textures.