Harpers Corner Road Closed for Winter

The Harpers Corner Road is closed for the winter at Plug Hat Picnic Area which is approximately five miles from US Highway 40. More »
Ely Creek Backcountry Campsites Closed

The Ely Creek backcountry campsites located along the Jones Hole Trail have been closed until further notice due to bear activity in the area. More »
Hiking Trails Along Cub Creek Road
On the Utah side of the park, several trails of various lengths allow visitors to explore the scenery, geology, plant and animal life found within Dinosaur National Monument. The Fossil Discovery Trail even provides the chance to discover fossils "in the wild" just as Earl Douglass or other paleontologists may have in the past. Click on the links below to find out more information on the various trails.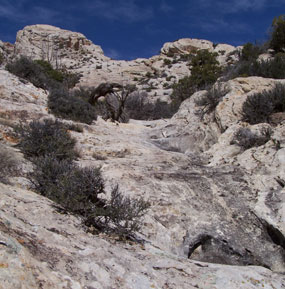 NPS Photo/Mike Weinstein


Did You Know?

Dinosaur National Monument is as famous for its dramatic canyon scenery as it is for its dinosaur fossils.