For Kids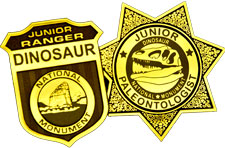 Dinosaur National Monument has Junior Ranger and Junior Paleontology programs available for children at no cost. Children are given a booklet with age-appropriate activities and complete a number of the activities based on their age. They are given a Junior Ranger or Junior Paleontologist badge upon completion.
Junior Rangers and Junior Paleontologists pledge to take care of Dinosaur National Monument and be respectful of the environment.


Did You Know?

A population of peregrine falcons has been established at Dinosaur National Monument. The park's rugged canyons make ideal habitat for the once endangered raptor. Fossils show that dinosaurs evolved into birds--and so still live in modified form at Dinosaur.