For Kids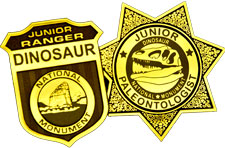 Dinosaur National Monument has Junior Ranger and Junior Paleontology programs available for children at no cost. Children are given a booklet with age-appropriate activities and complete a number of the activities based on their age. They are given a Junior Ranger or Junior Paleontologist badge upon completion.
Junior Rangers and Junior Paleontologists pledge to take care of Dinosaur National Monument and be respectful of the environment.


Did You Know?

Mormon crickets are wingless grasshoppers that swarm across roads through the summer in the western United States. These flightless insects can form such large swarms that the road appears to move and change colors where they cross.