Apply Online for the 2014 High Use Season Multi-Day River Permit Lottery

Starting December 1, 2013 through January 31, 2014 , boaters can apply for the lottery for the 2014 high use season multi-day river permits through Recreation.gov. More »
Ely Creek Backcountry Campsites Closed

The Ely Creek backcountry campsites located along the Jones Hole Trail have been closed until further notice due to bear activity in the area. More »
For Kids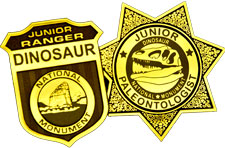 Dinosaur National Monument has Junior Ranger and Junior Paleontology programs available for children at no cost. Children are given a booklet with age-appropriate activities and complete a number of the activities based on their age. They are given a Junior Ranger or Junior Paleontologist badge upon completion.
Junior Rangers and Junior Paleontologists pledge to take care of Dinosaur National Monument and be respectful of the environment.


Did You Know?

Dinosaur National Monument's geology is a feast for the mind and the eye. The rock layers, which have been tilted by folding, expose a variety of colors and textures.