For Kids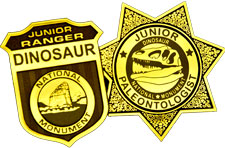 Dinosaur National Monument has Junior Ranger and Junior Paleontology programs available for children at no cost. Children are given a booklet with age-appropriate activities and complete a number of the activities based on their age. They are given a Junior Ranger or Junior Paleontologist badge upon completion.
Junior Rangers and Junior Paleontologists pledge to take care of Dinosaur National Monument and be respectful of the environment.


Did You Know?
Split Mountain, the name John Wesley Powell gave to one of the Dinosaur's most recognizable features, is aptly named: over millions of years, the Green River has carved a canyon into the center of the mountain, splitting it in two.