For Kids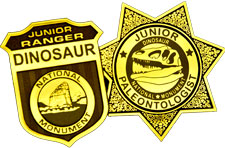 Dinosaur National Monument has Junior Ranger and Junior Paleontology programs available for children at no cost. Children are given a booklet with age-appropriate activities and complete a number of the activities based on their age. They are given a Junior Ranger or Junior Paleontologist badge upon completion.
Junior Rangers and Junior Paleontologists pledge to take care of Dinosaur National Monument and be respectful of the environment.


Did You Know?

How does an artist recreate a scene from the Jurassic era? Watch this video to see the development of scientific artist Liz Bradford's painting-from sketches to completion-showing Dinosaur National Monument as it might have looked 150 million years ago. More...