Portion of Echo Park Closed Due to Mountain Lion Activity

The closed area includes the group campsite (other campsites remain open), river access area, the adjacent restroom, water spigot and the path following the Green River upstream to its confluence with the Yampa River. A fresh animal kill is in the area.
For Kids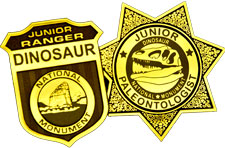 Dinosaur National Monument has Junior Ranger and Junior Paleontology programs available for children at no cost. Children are given a booklet with age-appropriate activities and complete a number of the activities based on their age. They are given a Junior Ranger or Junior Paleontologist badge upon completion.
Junior Rangers and Junior Paleontologists pledge to take care of Dinosaur National Monument and be respectful of the environment.


Did You Know?

Dinosaurs were a remarkably successful group of animals. They lived on the Earth for 160 million years. The fossils at Dinosaur National Monument represent only 10 of the many dinosaur species that existed during that long era.