Island Park Trail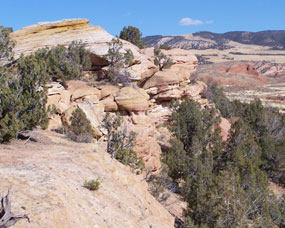 NPS PHOTO/Mike Weinstein
Length: 16 miles round trip. Not a loop.

Difficulty: Moderate to Difficult.

Trailhead locations: 1) At Ruple Ranch, a 30-mile drive on paved and dirt roads north of the Quarry Visitor Center; 2) Trailhead location for Jones Hole Trail.

Brochure: None.

Description: This hike takes you through a diversity of scenery, including the multi-hued panaroma of Rainbow Park, sandstone knobs (pictured at left), the desert shrub community and sandstone canyons.

Special considerations: There is no shade except for the Ely Creek drainage. The trail is faint and hard to follow in places. Routefining skills and ability to use a map and compass are important if you plan to hike this trail. A detour down Sage Creek will take you to the dramatic upturned rock layers of the Island Park Fault. For maps, use the USGS 7.5-minute quadrangles for Island Park, Utah, and Jones Hole, Utah.


Did You Know?

Whitewater rafting is a popular way to experience the remote canyon areas at Dinosaur National Monument. You can take a licensed commercial rafting trip or you can tackle the river on your own, provided you have a permit, the correct equipment and the necessary experience.