Desert Voices Trail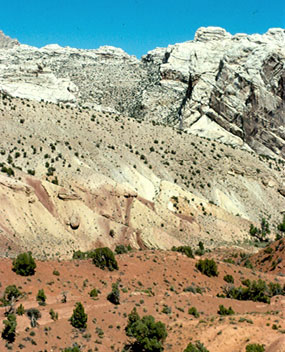 NPS Photo
Length: 1½-mile loop.
Difficulty: Moderate.
Trailhead location: About 3½ miles east of the Quarry Visitor Center, at the Split Mountain Boat Ramp.
Brochure: None.
Description: The trail offers excellent views of Split Mountain and several adjacent rock layers. Geology is the outstanding feature on this trail.
Special considerations: Many of the signs on the trail were written and drawn by children for children. There is no shade. This trail ties to the Sound of Silence Trail via a 1/4-mile connector trail.


Did You Know?

Mormon crickets are wingless grasshoppers that swarm across roads through the summer in the western United States. These flightless insects can form such large swarms that the road appears to move and change colors where they cross.