Desert Voices Trail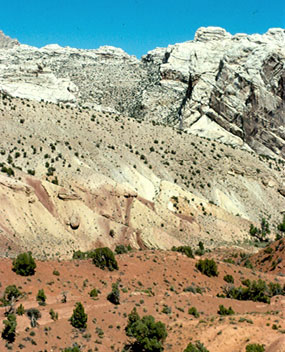 NPS Photo
Length: 1½-mile loop.
Difficulty: Moderate.
Trailhead location: About 3½ miles east of the Quarry Visitor Center, at the Split Mountain Boat Ramp.
Brochure: None.
Description: The trail offers excellent views of Split Mountain and several adjacent rock layers. Geology is the outstanding feature on this trail.
Special considerations: Many of the signs on the trail were written and drawn by children for children. There is no shade. This trail ties to the Sound of Silence Trail via a 1/4-mile connector trail.


Did You Know?

Do you know the difference between a petroglyph (pictured here) and a pictograph? Petroglyphs are images pecked into rock while pictographs are painted images. Dinosaur National Monument preserves both forms of Native American rock art.