Commercial Filming and Photography
Commercial filming and photography in Dinosaur National Monument requires a permit. Commercial filming means filming that involves the digital or film recording of a visual image or sound recording by a person, business, or other entity for a market audience. This includes recordings such as those used for a documentary, television or feature film, advertisement, or similar project.
Still photography, whether commercial or noncommercial, will not require a permit unless:
It takes place at a location where/when the public is generally not allowed, or
It uses models or props that are not part of the monument's natural or cultural resources or administrative facilities, or
The National Park Service would need to provide management and oversight to prevent unacceptable impacts.
Personal, noncommercial filming and/or photography does not require a permit. A permit may be required if that filming and/or photography occurs outside normal visitation areas and hours.
Contact the monument at (970) 374-3000 if you have any questions.
Download and review the Filming Preliminary Information Checklist (PDF), and submit the proper application (below).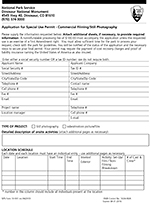 Filming Permit Application (short form) Adobe PDF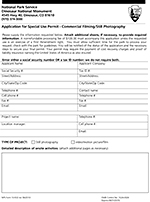 Filming Permit Application (long form) Adobe PDF
Did You Know?

Do you know the difference between a petroglyph (pictured here) and a pictograph? Petroglyphs are images pecked into rock while pictographs are painted images. Dinosaur National Monument preserves both forms of Native American rock art.