Several brochures are available on this page to assist you in visiting Dinosaur National Monument or learning about monument resources and stories. Other brochures are currently in development and will be addded to this page as they become available, For additional information, please contact us at (435) 781-7700.

Fossil Discovery Trail
A brief description of three prominent rock layers along the Fossil Discovery Trail.
2015 Boating in the Monument
This booklet details the rules and requirements for doing a non-commercial river trip in the monument. Visit our boating and rafting page for more information on rafting in the monument.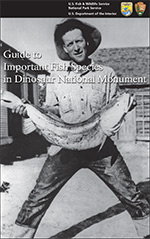 Guide to Important Fish Species of Dinosaur National Monument
This booklet gives descriptions and information on the major fish species - both native and non-native that are found in the monument. Visit our fishing page for more information.