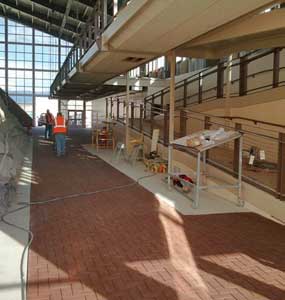 Quarry Exhibit Hall - Following a new coat of paint on the walls and big steel beams, the painters have wrapped up their work inside the building.
The pavers have been installed on the ground floor of the Quarry Exhibit Hall. Because the pavers sit on a layer of sand and gravel , in the event of future ground movement, individual pavers can be removed, the area beneath them leveled, and the pavers replaced, keeping the floor level.
During a year and a half of construction, a thick layer of dust & dirt settled on the quarry face, dulling the appearance of the fossils. To
ensure the fossils look their best when the building reopens on Oct. 4, Dinosaur NM staff gave the quarry face a thorough, but gentle cleaning with vacuum cleaners and damp cloths. The newly-cleaned quarry face looks great and the bones almost seem to pop out of the rock.