September 2010 Construction Update Blog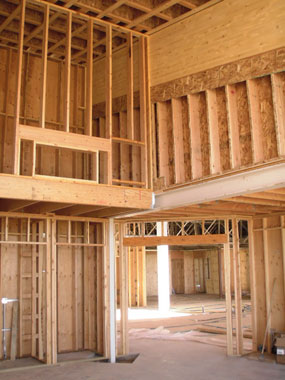 ---
Sept. 30, 2010
Quarry Visitor Center–The exterior framers have finished the majority of their work and most of the interior framing is also complete.
The new pedestrian bridge, connecting the parking lot and visitor center, was set this week. This is a bridge with an interesting history: it used to be a railcar! This recycled railcar is one of the sustainable features/green technologies that will be factored into the LEED (Leadership in Energy and Environmental Design) certification for the new visitor center.

There's more work to be done on the bridge/recycled railcar--including paving and stonework--but the wing walls, retaining walls, and abutments are all done and the earthwork contractors have backfilled at the abutments.The rough mechanical contractors have been on-site to lay out the vents and other locations where mechanical parts will penetrate the walls.
It's time to think about paint colors, but we're waiting to receive the sheet metal samples before finalizing color choices. The bridge will be a terra cotta color, and other exposed metal will be dark beige. The underside of the space frame in the exterior seating area will be a lighter color to reflect the light and brighten up the area.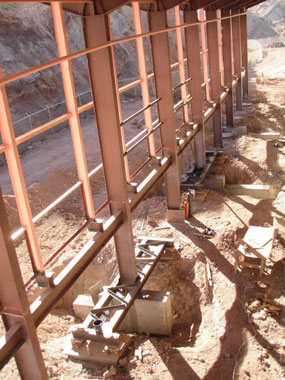 Quarry Exhibit Hall–Concrete work for the new foundation continues. On one of the grids, the grade beam reinforcement was located roughly an inch or two too low because of over-excavation and placement of the rebar; additional #4 bars were added to the top of the pour to remedy to remedy the situation. The contractor is ensuring that excavation is to grade and correct rebar placement in the remaining grids.
Lead paint abatement continues, but is slow going, and the structural steel installation has to wait on the lead abatement.
Desert rose paint will be used for the exhibit hall.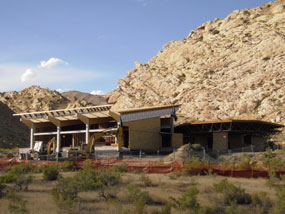 ---
September 7-21, 2010

Quarry Visitor Center
– The rough electrical work continued with in-wall and in-ceiling lines being run, and conduit and boxes hung. The rough plumbing installation began and the site for the fire hydrant was located. The rough mechanical work resumed.
The structural steel work is almost complete. The canopy frame and shade structure on the south end of the building should be done soon. Framing of the roof joists and sheathing over the building addition is complete. The restroom walls and most other interior walls have been framed.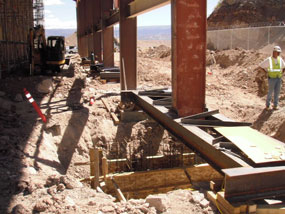 Quarry Exhibit Hall – The shoring frames have been installed on several of the grids. Footing demolition is complete. The re-grading along the north/top site of the building is nearly complete.