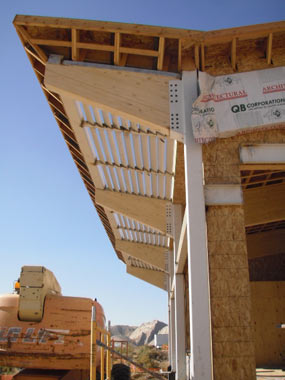 ---
October 21, 2010

Quarry Visitor Center
– The structural steel and shade structure are complete.
The rough plumbing and electrical work are ongoing.
Over the last few weeks, the stone masons had laid a mock-up wall. This was recently approved and the stonework began in earnest this week and should continue for about another month and a half. The color of the grouting was also recently approved—it's a great match for the existing grout.
While we're on the subject of the stonework, how's this for a coincedence: the current stone mason learned his trade when he went to Dinosaur National Monument in the late 1970s to help his father work on the visitor contact station that was then under construction.
A lot of progress has been made on the concrete work. The overlook benches, curbs, gutters, new bus drop off, and most of the sidewalks have been completed. This week, work continues on the seat walls, the bridge decking, and plaza this week.