June 2010 Construction Update Blog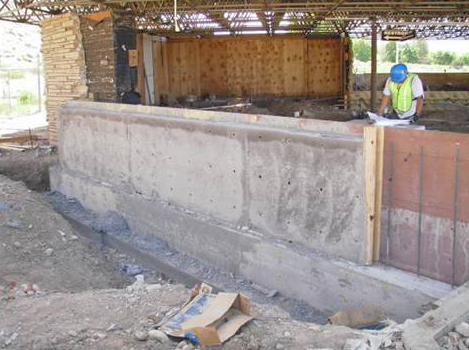 ---
June 29, 2010

Quarry Visitor Center – The concrete work is moving along. The second wall lift for the new addition and other walls and the continuous footings were poured. The contractor started backfilling and raising the interior portion of the new addition. The remainder of the north wall was demolished.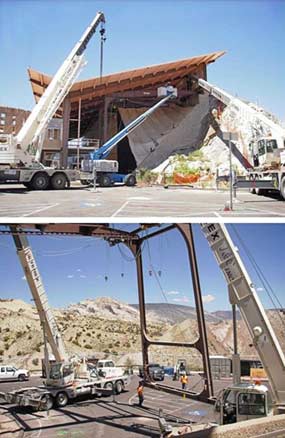 Quarry Exhibit Hall – The 28,000-pound gantry crane was successfully removed! The contractor removed the rails from the bulding and used them to extend the rail out of the building into the parking lot. They then used two cranes to move the gantry crane out of the building and lay it on the parking lot. The contractor will take the gantry crane apart, load the pieces on a flatbed, and take it to town for recycling.
In addition, general demolition resumed, the roof abatement began, and the salvaged wood decking was removed and stockpiled for reuse at the new visitor center.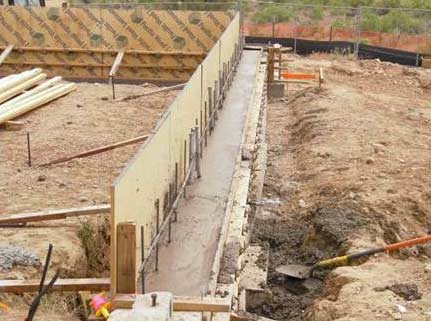 ---
June 15, 2010

Quarry Visitor Center – Footings for the new addition were poured last week. The stem walls are formed and ready for the lower lift pour. Internal electrical work continues and should be completed soon.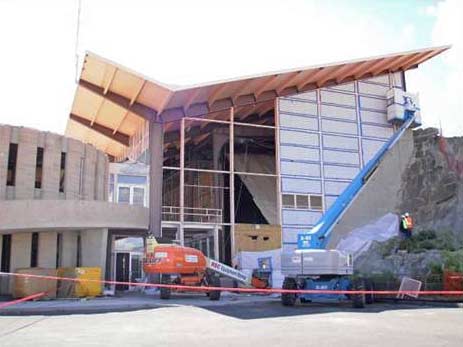 Quarry Exhibit Hall – General demolition continued. The mezzanine deck has been removed. Mechanical demolition was completed last week.
Portions of the roofing material have been removed, but because the roofing material over the south wing and the rotunda has a layer of asbestos, the rest is on-hold until asbestos abatement is complete.
Window abatement work started last week. Crews have removed all of the lower south wing windows and about 95% of the rotunda windows. They removed about half of the east wall windows and have prepped the remaining windows. Everything is being tethered before being moved to prevent something from falling onto the fossil wall.