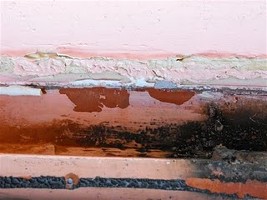 The exhibit hall is full of obvious hazards, from hanging walls of glass to bent vertical steel beams and collapsing ceilings. However, other more subtle dangers exist throughout the building.
When the building was constructed, asbestos was widely used for insulation around heating pipes, as well as in drywall mud, floor tiles, etc. Paint in the 1950s was predominantly lead based, so demolition, recycling, and reuse of materials require the safe removal and disposal of the paint.
As the project proceeds, abatement teams will be working throughout the building grappling with asbestos and lead paint problems. These threats need to be eliminated before demolition or construction can even begin.