April 2010 Construction Update Blog
---
April 2010


At the former shuttle staging area, general demolition is on-going. The west half of the roof demolition is complete; the east half continues. All demolition of the roof should be completed by the end of the week. Temporary water and power for construction has been excavated, installed & backfilled. The excavation contracter will begin clearing and grubbing for the foundation primarily on the south side of the building.
In the Quarry Exhibit Hall, the contractor is moving forward with the hazardous materials abatement. They are setting up containment areas; the process should take about three weeks. An air monitoring system will be set up and maintained by a third party to ensure safety for those in the building. A special security system has been installed over the fossil wall, which, combined with the innovative protective structure that the contractors have come up with will allow the fossils to stay safe and secure during the reconstruction.
____________________________________________________________________________________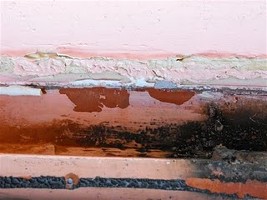 The exhibit hall is full of obvious hazards, from hanging walls of glass to bent vertical steel beams and collapsing ceilings. However, other more subtle dangers exist throughout the building.
When the building was constructed, asbestos was widely used for insulation around heating pipes, as well as in drywall mud, floor tiles, etc. Paint in the 1950s was predominantly lead based, so demolition, recycling, and reuse of materials require the safe removal and disposal of the paint.
As the project proceeds, abatement teams will be working throughout the building grappling with asbestos and lead paint problems. These threats need to be eliminated before demolition or construction can even begin.

When the rehabilitation of the Quarry Visitor is completed, the building will have an entirely new floor system. This requires removing the six-inch thick cement pad running to the face. Because the pad runs up to the face, removal presented some problems in terms of protecting those Diplodocus bones.
First, the carpet was removed. Since power-tools and heavy equipment were required for concrete removal, the quarry face and bones in front of the work area were draped in blankets and plastic for protection. A water lubricated cement cutting saw unit made several passes per cut to go all the way through the pad. The concrete was cut into pieces and removed with machinery.
From start to finish the process took about 7 hours and the bones are no worse for the wear.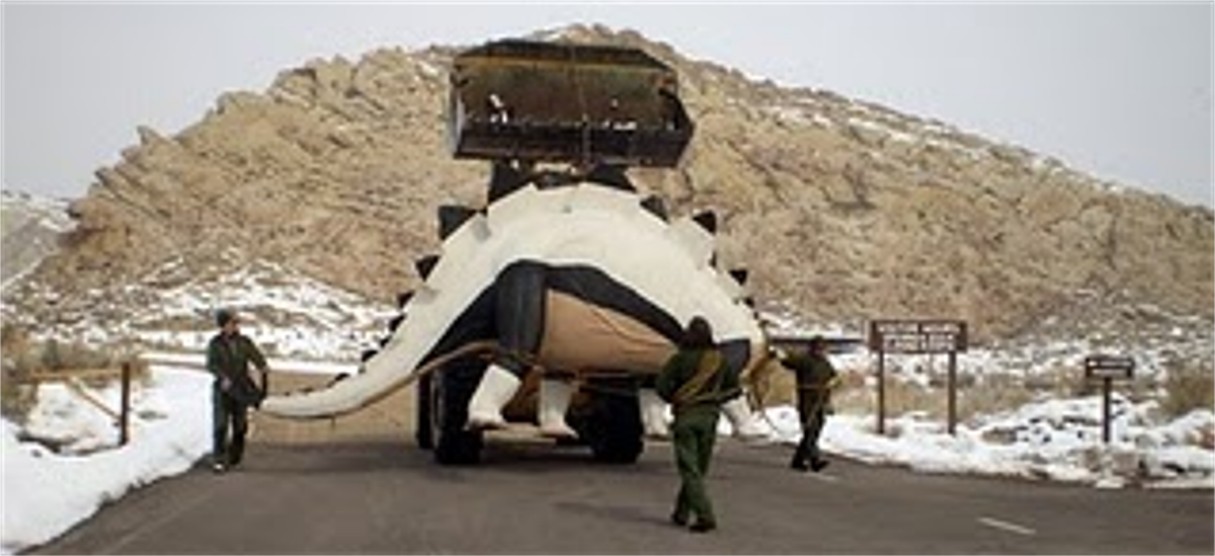 NPS Image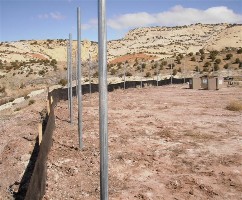 The construction pre-meeting was held on March 15 and the contractor has began to move equipment to the site.