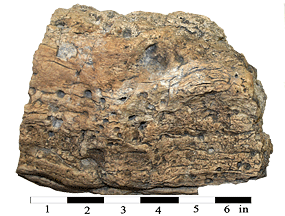 What makes trace fossils superstars?
Although many different trace fossils are found at Dinosaur, some are exceptional specimens. One of these is a piece of dinosaur limb bone that has been partially chewed by termites. No termite body fossils have been found anywhere in the Morrison Formation, but this trace fossil shows that termites were a member of the Morrison ecosystem at Dinosaur.
Another spectacular trace fossil is a piece of petrified wood chock full of beetle borings. Beetle body fossils have never been found in anywhere of the Morrison Formation. Beetles must have also been present in the Morrison ecosystem at this time to make these marks.