There are more reptiles in the Glen Canyon than just dinosaurs. So far there have not been many bones recovered, but footprints and other trace fossils abound!
Brachychirotherium
One of the most common tracks is Brachychirotherium. These tracks were made by a twelve-foot-long carnivorous reptile-not a dinosaur!-that looked a little like a crocodile (although it is not related). Because it walked on all fours, Brachychirotherium tracks consist of the impressions of both hind feet and forefeet. One site contains close to a hundred Brachychirotherium footprints!

National Park Service
Sphenodont
Paleontologists also found a jaw bone that belongs to a small reptile known as a sphenodont. This type of reptile is easily identified by the fact that its teeth are fused to its jaw. If you look closely at the photo below, you can see little points on the upper side (which are the teeth), and notice that they are all there, and that there is no discernible separation between the teeth and the jaw. It was probably herbivorous and/or insectivorous. The only modern-day sphenodont is the tuatara, a reptile that is found only in New Zealand.

Left-National Park Service; Right-KeresH
Reptile Burrows
On the underside of one rock overhang in the park are strange tubes that paleontologists think are reptile burrows. They are about 20 centimeters in diameter, and they form a network that extends over about 10 meters. The tubular parts are the tunnels the animals used to move around, and here and there are enlarged parts that might be resting or sleeping chambers. If this is a burrow system, there must have been vertical sections somewhere, but until we find them, we won't know how far below the surface these tunnels were.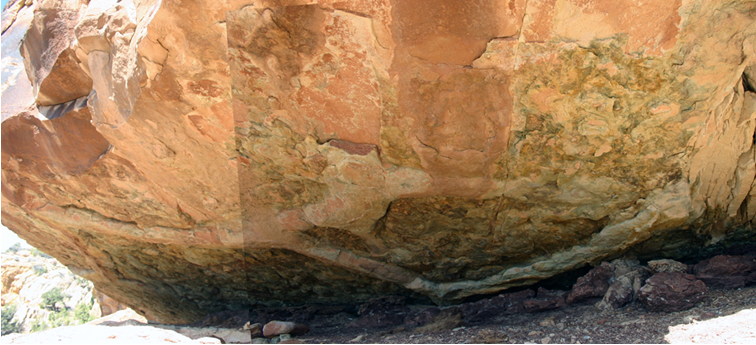 National Park Service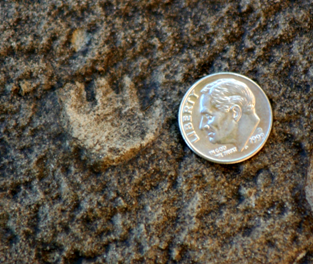 National Park Service
Brasilichnium
Another frequently found track is Brasilichnium, made by a small mammal-like reptile or primitive mammal. One rock surface contains hundreds of these little tracks! Individual footprints are about the size of a dime, and the whole animal might have been only about twelve inches long (including tail). Body fossils of one potential trackmaker,Kayentatherium, have been found in Glen Canyon outcrops in Arizona. This species appears to have had a long, tubular body (similar to that of modern mole rats). This body shape suggests that they lived in burrows. They were definitely present here, far into the inhospitable desert, so it makes sense that they might have been nocturnal, as were many other early mammals. Burrows would have helped them escape the heat of the desert day. Unfortunately, no skeletons of these small mammals have been found yet in Dinosaur, but the search continues. To see pictures and read more about the footprint surface, go to "Snapshot in Stone" link on the project home page.